You are here
Membrane Switch
Membrane Switch with Emboss
•Thickness ≥0.7mm,
•Service life≥ 80,0000
•With Pleasing in appearance, good sealing assembly convenience alloying clear, low cost and long life characteristics .
•Widely used in intelligent electronic measuring instruments,electronic weighing, appliances and electronic communications category and Industrial Automation System even the most advanced aerospace technology and military equipments,and other fields .
Sample Picture :

Membrane Switch With Metal Domes
•Thickness ≥ 0.8mm
•Service life ≥ 50,0000
•With stable performance and reliable operation, golden or nickel plated.
•We can chose 4-legs, cycle and various rectangular oval shape with different force 125~450g
Sample Picture :

Flat Membrane Switch
•Thickness ≥ 0.7mm,
•Service life ≥1000000 ,
•Sealing : a good waterproof, dust control, erosion prevention of harmful gases.
•According to the overall requirements of the design, color and pictorial fancy button sizes and shapes, free choice of characters, trademarks,show window can be arbitrarily arranged. Have low-cost, long life characteristics .

Sample Picture :

Membrane switch with LED light
•Total thickness is around 0.8㎜
•Pressing life-span is over 800 thousand times .
•And fix LED with different color based on the customer demand, ordinarily red, yellow, green ,blue and white,it can be divided into single,double&tri—colors.
Sample Picture :

Membrane switch with PU Dome
•Crystal Dome membrane switch is a traditional Membrane switch with PU Domes.

•The Crystal Dome Membrane Switch compared with traditional membrane switch, has longer service time,can be used in worse environment , non-yellowing ,no cracking and gorgeous surface luster when used outdoors.The product in PU compared with in traditional epoxy resin crystal,PU product is no ripples, no air bubbls. good transparency, no damage when repeatedly fold 500 times, highly gear resistant, UV resistant ,non-yellowing, gorgeous surface luster and so on .With our unique technology, according to your request (any shape, size)
•we can put PU dots on the same product formed DOME array
•We can according to your requirement to decorate the material's surface ,such as different color mirror surface, stain steel wiredrawing .full color printing,3D texture, double color and gradient multicolor ,ect..

Sample Picture :

Rigid Pcb-base Membrane switch
•Hard membrane switch is the graphic and circuit printing cover on PCB
•It is easy found, stable craft and low resistance , what's more , it can weld some components of circuit on the back directly
• Under the situation of small area is not large, can save rigid lining layer
•Rigid membrane switch usually adopt a metal guide vane as a contact to conduct a maze,so it has good hand feeling
Sample Picture :


FPC Membrane switch
•Thickness ≥0.8mm,
•Service life≥ 50,0000
•With good appearance, stable performance, clear contact dot, uniform force, low cost and long life characteristics .It is suitable for the equipments or instruments which si highly requirement on resistance and reliability
Sample Picture :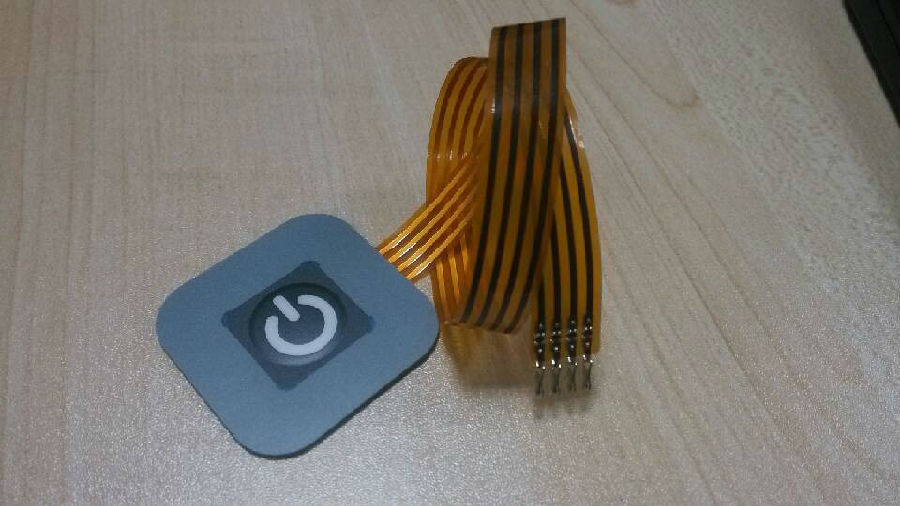 LED back light membrane switch

LED back light membrane switch with unique exterior design, Use side-emitting LED,add the light guide film, reflective film,LED light in the reflective film and then the light will diffusion by reflective film, compare with EL back light design,Production process is relatively simple,No drivers required.
Sample Picture :

Capacitive membrane switch
When human body contact electrodes, The human body is a capacitance,so it will be a CF between Sensing electrode and ground. Using this basic principle and printing circuit , To achieve functional control.
Capacitive membrane switch more Beautiful, durable& long life Compare with the traditional membrane switch, Just lightly touch can control keyboard. And quantization adjustment direction control.
Advantag: Anti-wear, Moistureproof, waterproof, low cost.
Applications: Widely used in mobile phones, VCD, DVD, induction cooker, smoke machines, water heaters, washing machines, microwave, coffee maker, refrigerator, MP3, MP4, DPF digital photo frames and CAR DVD etc.
Sample Picture: